______________________________________________________________________________
WELCOME TO:
THE NATIONAL ASSOCIATION OF LETTER CARRIERS
BRANCH 193
San Jose, California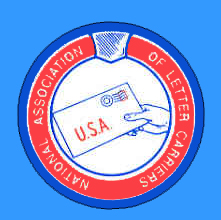 ________________________________________________________________________________________
Latest Local - National News
and Updates
(10-28-21)
______________________________________________________________________________________
October 01, 2021
Several COVID-19 related MOUs extended through December
By joint agreement (M-01966), several COVID-19 related memorandums of understanding have been further extended through December 31, 2021. These memoranda include: temporary expanded sick leave for dependent care (M-01910); temporary use of the 7:01 rule (M-01913); temporary workplace changes to promote social distancing (M-01915); temporary use of TCAs (M-01916); and the reinstatement of MOU Re: Temporary Additional Paid Leave for CCAs (M-01911).
Additionally, MOU: Reinstatement of Temporary Additional Paid Leave for CCAs (M-01965) explains that the terms of MOU Re: Temporary Additional Paid Leave for CCAs (M-01911), which has been reinstated, will be administered as if it had been in effect without interruption since the original effective date of March 18, 2020. This MOU will expire on December 31, 2021.
NALC and the Postal Service also agreed the local parties may mutually develop a sign-up process for full-time employees who previously did not, or could not, place their names on either the overtime desired list or work assignment list (M-01963), and an agreement to another temporary time limit extension on Step B and arbitration appeals (M-01964). Both of these agreements will expire on December 31, 2021.
Also extended through December 31, 2021, is a USPS memorandum (M-01914) which instructs managers and supervisors to allow liberal changes of schedule to accommodate employees who are dealing with childcare issues related to the pandemic. The memorandum also provides for liberal sick leave usage for employees who are sick and liberal annual and leave without pay (LWOP) to the extent operationally feasible, treats COVID-19 related leave as scheduled (as opposed to unscheduled) leave, and directs that leave taken for COVID-19 related reasons during this time not be cited in discipline for failing to maintain an assigned schedule.
Each of the MOUs and the USPS directive can be found in NALC's Materials Reference System on the NALC website.
________________________________________________________________________________________
Check out the Branch News
& App Page
The NALC has created an App to keep track of your work hours. Check out the information and the benefits of using it. Protect your pay from Management and Time Keeper errors. Get the App thru your App store, it's free. The NALC website App for your phone/tablet is also available thru the App Store. It's free and you'll have the latest National Letter Carrier News and ALL the Postal/Letter Carrier Manuals, Guides and PS Forms at your fingertips.
IN ADDITION:
You can also save our branch website on your phone/tablet home screen
through Safari, Firefox or your Android web browser and have the same information available including Branch 193's local news. You will have access to all manuals and forms including the National Agreement, Letter Carrier guide and all reference books.
________________________________________________________________________________________
September 29, 2021
NALC supports critical investment in postal infrastructure
NALC strongly supports the $7 billion in federal funding for the electrification of the Postal Service vehicle fleet that is included in the reconciliation package.
The aging postal vehicle fleet is in desperate need of modernization. This key investment to electrify the Postal Service fleet will improve working conditions for letter carriers, help combat climate change, and achieve priorities included in President Biden's Build Back Better Agenda as well as Postmaster General Louis Dejoy's Delivering for America Plan.
Letter carriers deliver to every American household and business six or seven days a week. During the COVID-19 pandemic, Americans have relied on the Postal Service for their paychecks, medications and other essential deliveries. The Postal Service remains a crucial part of the American economy and investment in the agency, its workers, and infrastructure is essential.
As members of Congress actively work on finalizing the budget reconciliation package and bring it to the floor for a vote, NALC urges all members to vote in support of this critical funding for the Postal Service.

NALC will update letter carriers on any future action.
______________________________________________________________________________________
Letter Carrier Pay Schedule
City Carrier Wage Schedule:
Effective Aug. 28, 2021
______________________________________________________________________________________
NALC DISASTER RELIEF
INFORMATION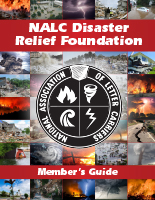 ________________________________________________________________________________________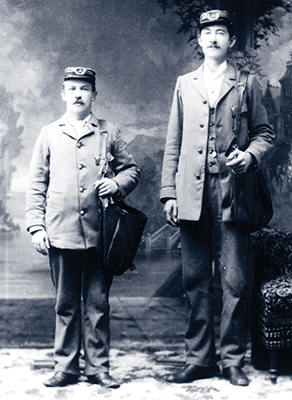 ________________________________________________________________________________________
A Message from Branch 193 President
What is going on? .... COVID-19 (Coronavirus) changes everything. I hope this (message) finds you and yours all safe and well. During these past few months, branch 193 has been in constant communication with the NALC, National Busi- ness Agents Office (NBA), Bay Valley District (BVD), and other management officials regarding the Postal Service's overall efforts related to the COV ID-19 Pandemic and specific issues related to letter carriers. We are learning more each day as we grapple with the COV ID-19 pandemic and its implications that it is taking on our lives and our communities. As employees of the USPS, an es- sential public service of the federal government for the American people, letter carriers are required and expected to work k during these challenging and un- precedented times. Not only is everyone worried about the physical harm that the coronavirus brings, we are having to deal with the psychological aspects of it as well - anxiety, disruption, panic, and stress, etc.
As a result of the pandemic and shelter in place orders, the Branch has had to cancel and/or postpone meetings and events — the MDA Bowl-a-thon and Golf Tournament, Family Picnic, and the Retirement Brunch. The Branch is committed to return to these traditional events when it is safe to do so.
In the meantime, the Branch has been exploring conducting meetings via Zoom Video conferencing. Currently, we are limited to how many can participate. However, if anyone is interested, contact your strop steward or the branch office.
The following communication is regarding the COV ID- l9 (Coronavirus) Pandem- ic. The focus of this is concerning the safety and health of letter carriers and their families, and to share with you the latest developments and updates.
Thank you for all you do.
"Be Safe, Be Responsible, Be Respectful, And always keep a smile."
In Solidarity,
Ernie Arrañaga
________________________________________________________________________________________
Protecting Your Rights
at the Postal Workplace
A letter carrier's job is a daily challenge. Letter carriers must use both mental and physical faculties to get their jobs done under deadline while overcoming all sorts of obstacles. Though it's not always obvious, the union has a large impact on letter carriers' daily lives. NALC's advocacy efforts, past and present, are aimed at assuring letter carriers are treated and paid fairly in accordance with the National Agreement, the law and other applicable agreements and regulations. These efforts extend from the shop steward level to the regional and national staff.
When disputes arise, NALC is there to handle them, whether they involve a single carrier or thousands. NALC works with both carriers and management to make a carrier's job safe, but if a carrier is injured on the job, NALC is there to help the carrier get the benefits he or she deserves. And NALC works to protect retirement benefits and help carriers at the end of their careers get the benefits they earned after years of hard work.
This page is the hub for finding information on workplace issues and how NALC represents letter carriers in the workplace. The fastest way is by searching for your issue in the search bar below, or using one of the search terms on the left.
________________________________________________________________________________________
The NALC Guide to Identifying
Intentional False Editing of Clock Rings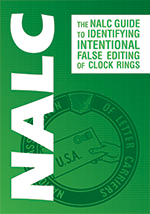 The NALC Guide to Identifying Intentional False Editing of Clock Rings was created to assist union representatives when investigating grievances concerning clock ring edits that impact letter carriers' pay. The guide provides instruction on reading the TACS Employee Everything Report, examples of improperly edited clock rings, and includes a grievance starter to help build successful case files.
__________________________________________________________
USPS announces new ESAS Delivery Initiative Test
In a letter dated July 16, 2020, the Postal Service informed NALC of a new delivery initiative test titled Expedited Street/Afternoon Sortation (ESAS). Rather than discuss this concept with NALC in the Joint City Delivery Task Force, USPS chose to test it unilaterally without NALC participation. USPS states the purpose of this test is to determine if the Expedited Preferential Mail (EPM) program can be enhanced to assist in reducing the morning office time for city letter carriers by enabling them to get on the street earlier. EPM is a long-time program established in Handbook M-39 and Handbook M-41 that involves casing non-preferential mail in the afternoon after completing street duties. USPS believes that their new version of this program will enhance customer service by providing more consistent delivery times. The test is scheduled to begin on July 25, 2020, and anticipated to continue for approximately thirty to sixty days in 384 selected sites. The list of test sites can be found here.
This unilateral test of ESAS should not be confused with the EPM program outlined in the handbooks. EPM is a long-established program in which letter carriers normally case only preferential and time-value mail in the morning. The casing of non-preferential mail and markup work is done in the afternoon when the carrier returns from the route. This is designed to move the majority of carrier casing time to the afternoon. In an EPM office, city carriers would clock-in, withdraw and case only preferential mail, obtain and process accountable items and small parcels and rolls (SPRs), pull-down, obtain parcels, load their vehicles, and leave for normal street delivery. After completion of street duties, city carriers would perform normal return-to-office functions and then begin casing all non-preferential mail. After all non-preferential mail has been cased, the mail will be left in the case until the next morning.
Several guidelines related to the EPM program are contained in Handbook M-39, Management of Delivery Services and Handbook M-41, City Delivery Carriers Duties and Responsibilities. These and other USPS handbooks can be found on the NALC website.
The ESAS initiative, as described, does not appear to conform to the handbook provisions contained in the M-39 and M-41 relating to EPM and other office activities. The ESAS test requires carriers to clock-in, attend any service or safety talk, perform vehicle inspections, obtain accountable items, set-up their scanner, retrieve the parcel hamper, line up the SPRs, and retrieve the mail cased and pulled down the previous afternoon. Instead of casing their SPRs, carriers will line them up in delivery order prior to pulling their hot case mail and then immediately clock to the street to load their vehicle and begin delivery. Under the test, there is to be no casing of mail in the morning. Letter carriers will withdraw hot case preferential flats and are expected to route them in order of delivery on the street. Upon returning to the office, carriers will complete the normal return-to-office afternoon duties. After completion of these duties, carriers will then case and pull down all mail distributed to the route in preparation for the next day's delivery.
As previously stated, this test as communicated to NALC, is not fully compliant with Article 19 of the National Agreement related to the applicable handbook provisions. NALC representatives are discussing the issues we have with this initiative with USPS representatives at the headquarters level. Shop stewards and branch officers should monitor the test process, review applicable contractual and handbook provisions, and file appropriate grievances where contract violations occur. Please contact your National Business Agent's office for guidance, assistance, and communication regarding the test
________________________________________________________________________________________
June 2020 cost-of-living adjustment memo
2021 Retiree COLAs Projection: 0.3% as of June 2020
The 2021 COLAs for CSRS and FERS benefits are based on the increase in the average CPI-W between the 3rd quarter of 2019 (250.200) and the 3rd quarter of 2020 (TBA).
Based on the June 2020 CPI-W (1982-84=100) of 251.054 the 2021 CSRS and FERS COLAs are currently projected to be 0.3%. The 2021 retiree COLA calculation will be finalized in October 2020 with the release of the CPI-W for September 2020.
CSRS annuities receive full COLAs; COLAs for FERS annuities are payable for retirees 62 and older and may be reduced by up to one percentage point from the increase in the CPI.
2021 FECA COLA projection: 0.2% as of June 2020
Based on the release of the June 2020 CPI-W (1982-84=100), the 2020 FECA COLA projection is 0.2%. The June 2020 CPI-W of 251.054 was 0.2% above the December 2019 base index (250.452). The 2021 FECA COLA calculation will be finalized when the December 2020 CPI-W is published during the month of January 2021.
FECA COLAs are applicable only in cases where death or disability occurred more than one year prior to the adjustment's effective date.
_________________________________________________________
________________________________________________________________________________________


August 17, 2019
USPS Fairness Act reaches bipartisan majority
The USPS Fairness Act (H.R. 2382), which would repeal the retiree health benefit pre-funding requirement, passed the threshold for bipartisan majority support in the House Of Representatives with 218 co-sponsors. However, more support is needed for this bill. With new House rules, legislation that reaches 290 or more co-sponsors can be scheduled directly for a floor vote. To see where this legislation and NALC's priority resolutions stand, and if your representatives are co-sponsors,
CLICK HERE
________________________________________________________________________________________
August 29, 2019
NALC responds to Hurricane Dorian
To our brothers and sisters in the areas that will be impacted by Hurricane Dorian, we need your help to make sure that we are notified of the needs of our membership in this area. We seek your help in identifying those letter carriers who may be displaced from their homes once Hurricane Dorian hits, by providing the following information:
Name
Address
Phone Number
Branch Number
Work Location
Please provide this information to the National Business Agent Lynne Pendleton's office at 678-942-5295, for Region 9 (Florida & Georgia). You may also email one of the following, NBA, RAAs, the Disaster Foundation, the Foundation's President or Vice President at:
pendleton@nalc.org - 954-224-0410
lyerly@nalc.org - 954-604-0079
lester@nalc.org - 470-629-7906
ali@nalc.org - 470-488-8953
cdavidson@nalc.org
peralta@nalc.org
DisasterReliefFoundation@nalc.org – 202-423-2443
Helping to account for each other's needs is the beginning point for assistance.
________________________________________________________________________________________