______________________________________________________________________________
WELCOME TO:
THE NATIONAL ASSOCIATION OF
LETTER CARRIERS
BRANCH 193
San Jose, California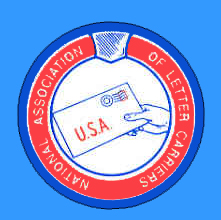 ______________________________________________________________________________
Latest News and Updates
February 26, 2016
Rolando appointed AFL-CIO finance committee vice chairman during labor fed's winter meeting

NALC President Fredric Rolando was appointed vice chairman of the AFL-CIO's finance committee during the federation's executive council meeting this week in San Diego. The president sits on the council as one of its vice presidents.
During its sessions this week, the council also discussed a wide range of items related to the union movement, including plans for the labor movement's get-out-the-vote efforts in 2016 and beyond and the alarming number of anti-union battles taking place on around the country at the state level. The council also adopted a variety of policy statements; among them was one that concerns the rising class of "on demand" workers, something that has the potential to threaten Postal Service jobs.
"While the number of people who earn a majority of their income from work 'on demand' via digital platforms constitutes only a tiny slice of the workforce today, some predict this kind of work could become much more prevalent in the future,' the statement said. "Under current law, only workers who are defined as 'employees' are protected by the National Labor Relations Act. Encouraging on-demand companies to rely on a workforce of independent contractors who lack the rights and protections of employees is bad public policy, yet four states have passed legislation doing just that for Uber and Lyft drivers. Similar bills are pending in five other states.
"We believe there is no basis for the pessimistic view that good jobs soon will be a thing of the past," it said. "Employee status by itself is no guarantee of decent work, but the rights and protections of employee status long have been the foundation on which we strengthen our bargaining power." (Click here to read the council's other adopted policy statements.)
Also at the meeting, the council declined to hold a vote on whether to endorse a presidential candidate in the 2016 election campaign. In an e-mail to executive council members, AFL-CIO President Richard Trumka said that, after much discussion and conversation, "I have concluded that there is broad consensus for the AFL-CIO to remain neutral in the presidential primaries for the time being and refrain from endorsing any candidate at this moment."
Trumka said that the federation's leadership encourages "affiliated unions to pursue their own deliberations with their members and come to their own endorsement decisions, if any, through open and rigorous debate."
______________________________________________________________________________
USPS/NALC Open Contract Negotiations
NALC President Fredric Rolando and USPS Postmaster General Megan Brennan met on Feb. 19 at NALC Headquarters in Washington, DC, to formally open negotiations for a new collective-bargaining agreement. The present 2011-2016 agreement, covering more than 204,000 active city letter carriers employed by USPS, is set to expire at midnight on May 20.
Here is President Rolando's opening statement:
On behalf of everyone here at NALC, I want to welcome our friends and colleagues from the Postal Service to the Vincent R. Sombrotto Building for the formal opening of collective bargaining negotiations.
We are genuinely hopeful that working seriously and diligently together, we will be able to establish a mutually acceptable contract that rewards America's city letter carriers for their hard work providing extraordinary service to the American public.
I want to add a personal welcome to Postmaster General Megan Brennan. Since your appointment as the PMG, we have worked together, collaboratively, on legislative issues—and other serious Postal Service issues. I believe that we share the view—enthusiastically—that the United States Postal Service is not only alive and well, but also a vital national institution that provides an essential service to the 152 million households and businesses that we serve every day.
Of course, we understand that the Service faces great challenges ahead, and our two organizations will not always see eye-to-eye on every problem—or every solution. But on this side of the table we believe that the interests of the American public, the United States Postal Service, and its 204,000 active city letter carriers can be aligned. This can be done by providing the best possible service at the most affordable rates with fairly compensated and decently treated letter carriers in every corner of this country.
At this table, we will inevitably have different views on the significance of various issues—and what they mean for the future. Our goal is to negotiate a new contract that reconciles those different views.
We—the NALC—come to this table with a high degree of confidence in our understanding of the Postal Service's past, present and future. Part of that confidence is based on the role we have played in helping the Postal Service overcome the global economic crisis over the past decade. We have not only rolled up our sleeves at the bargaining table, but we have also led the fight to defend the Postal Service on Capitol Hill, at the White House and in the media—and we have done so, at times, in direct conflict with some leaders of the Postal Service.
But this is not the time and place to relive the past, so let me phrase our claim to credibility in a positive, not critical, way.
Five years ago it was the "conventional wisdom" in this town—in Congress, at the White House, in the press, among certain mailers and even in some corners of L'Enfant Plaza—that the Postal Service was doomed. It was destined to be crushed by the Internet and was on the verge of bankruptcy. Relentless downsizing and service cuts were the only solutions and nothing could be done to grow our business. Ultimately, many thought privatization of what was left was the only option.
Every element of the conventional wisdom was wrong—and demonstrably wrong.
And the NALC said so. Repeatedly, aggressively and consistently. And we showed why so many people were wrong. And we backed it up with an independent financial analysis from one of the premier financial firms in the world.
We pointed out, over and over, that the multi-billion dollar deficits reported were the result of an absurd mandate by Congress in 2006 that the Postal Service pre-fund retiree health benefits to the tune of $5 billion-plus per year. No other government enterprise, no private company—none—was or is required to do that. That mandate by itself, produced the deficits and fed the misguided conventional wisdom and the counter-productive drive to slash services.
Once the recession ended, the Postal Service started making a profit on operations, but it took a while for folks in Washington to notice. Finally, over the past couple of years, the press and members of Congress and leaders in our industry have realized that the conventional wisdom was wrong. The Postal Service is not doomed—we can and will thrive in the 21st century.
But that was not all that NALC pointed out. We also sought to promote solutions to the financial crisis created by Congress in 2006—even as we fought and defeated misguided service cuts. We pushed for fairness from the Office of Personnel Management in the area of pension valuations—and convinced a bipartisan majority of Congress to let us use pension surpluses to cover the cost of pre-funding. When that solution was blocked in Congress, we used our collective-bargaining process with you to explore an alternative solution involving reforms to the Federal Employees Health Benefit Program and its interaction with Medicare.
But we didn't stop there. We also engaged major mailers to boost revenues by preserving the exigent increase and built support in our industry and on Capitol Hill for further reducing the cost of retiree health benefits by investing the retiree health fund more sensibly. These solutions now form the basis of an emerging consensus in Congress on postal reform—and show how powerful collective bargaining can be if we work together in good faith.
It deserves mention that now, thanks to you, the NALC and the Postal Service are working together—with APWU, the rural carriers, the mail handlers and a coalition of mailers—on a legislative program that includes our negotiated solutions. That's all to the good.
But neither our joint congressional efforts, nor the fact that attention is finally being paid to the real financial numbers, nor all the good will in the world, will get us a contract. That will come only with straight talk, honest hard work, the free exchanges of ideas, real transparency and a determined will to negotiate a contract rather than have one be written for us by an outsider.
NALC is not naïve. We do not just hope for the best. We also prepare for the worst. We have been down this path before. We do know how to put on a case in interest arbitration. So do the folks on your side of the table and in L'Enfant Plaza. However, we both know that the most productive and efficient way forward for us is to negotiate a contract voluntarily.
We will not be burdening this day of formality with a detailed list of proposals. That will come in good time. But I believe it will be helpful to outline the framework of what will produce a joint agreement. And what will not.
The men and women letter carriers of the United States Postal Service have earned a reasonable increase in their wages and protection of their health insurance and other basic terms and conditions of employment. This will not be a concessionary agreement. We should not waste our valuable time, energy and resources, or yours, in pursuit of that which will not be.
Elements of our collective-bargaining agreements that have stood the test of time should not be tampered with. COLAs, no lay-offs clauses and contracting-out provisions are not Holy Scripture, but to letter carriers they are close. We would be well advised to approach those existing provisions with great respect and caution.
We both know we have workforce issues. We have a non-career workforce with an unacceptably high rate of turnover due to inadequate working conditions, compensation and benefits. There is every reason for us to study these issues in great detail, and to be creative in fashioning solutions.
We also have workplace issues. Beyond matters of staffing, safety and service, we must address a workplace culture plagued by stress and, often, dysfunction. It's well past time to put our heads together to make permanent, sustainable improvements. The ongoing transition within the Postal Service—what we do, how we do it, when we do it—has made addressing these issues even more important. We need to spend quality time and make every effort to discuss these and other issues in a non-adversarial, problem-solving manner.
On some issues, there should be no positional bargaining—for example, suicide rates, accident rates or protection against violence. Together, we can and must do better.
And that's only for starters. We both know other issues will emerge, and other opportunities—and risks—will present themselves.
Finally, a word on what is going on outside this room, and what impact, if any, those activities should have on what goes on at this table.
First, there is the ongoing effort in the Congress to deal with postal reform. We will both do our very best to advance the interests of the Postal Service and its employees and the public, as we see them—hopefully, through the same lens. Regardless of what either of us might want, or say, inevitably we will be keeping an eye across the street as we meet.
Second, there are your dealings with the other unions. Be assured of our best wishes to those unions, and you, in your efforts to reach agreements. But here, for the NALC, it is not the same as keeping our eye on the Congress of the United States. What happens or what doesn't happen on Capitol Hill will, inevitably, affect us. We cannot ignore it. But it is important for the Service to understand that what goes on in your other negotiations, or interest arbitrations, with the other unions has very little relevance for the NALC and its membership.
We know the facts on the ground establish city letter carriers as unique in our role in the Postal Service's unmatchable last-mile delivery network, unique in our relationship with the public and the business community, unique in our working conditions, and unique in our ability to build the revenues of the Postal Service. Increasingly, we are out on the street; increasingly, we are subject to the hazards of traffic and crime; increasingly, we face the challenges of inclement weather and many other physical risks. To be sure, other crafts and their unions have their own unique conditions, and we are sure that you will address those other craft issues at their tables.
At this table, we will address letter carrier issues and concerns, and their terms and conditions of employment. That should keep us busy enough.
We are committed to dealing with these negotiations in dead seriousness and purpose. I trust you will do the same.
Again, welcome to our building. We look forward to getting to work.
___________________________________________________________________________
February 16, 2016
Rolando statement on USPS' quarterly financial report (updated)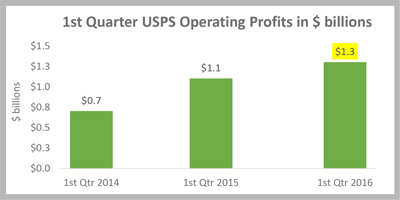 In the first quarter of FY2016, USPS reported an operating profit of $1.3 billion. (Sources: 2014, 2015, 2016.)
(Note: This story has been updated to include news media coverage, below.)
NALC President Fredric Rolando issued a statement following the U.S. Postal Service's release on Feb. 9 of its financial report for the first quarter of Fiscal Year 2016, covering October through December of 2015:
The $1.3 billion quarterly operating profit announced today by the Postal Service is positive news that augurs well for the future. The continuing financial upswing shows the importance of maintaining and strengthening the unparalleled—and profitable—postal network, which offers Americans the world's most affordable delivery services.
This impressive performance at the start of Fiscal Year 2016 builds on back-to-back years of operating profits each exceeding $1 billion, without a dime of taxpayer money.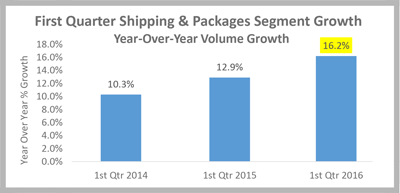 Package volume has rapidly grown, driven by a surge in e-commerce and bolstering USPS' operating results. (Sources: 2014, 2015, 2016.)
These results aren't a fluke. They stem from two structural factors: An improving economy has helped stabilize letter revenue, and Internet-driven online shopping has sent package volume sharply upward—up 16.2 percent over the first quarter of last year.
Today's good news is consistent with—and reinforces—the emerging consensus among key lawmakers, the Postal Service, postal unions, businesses, mailers and industry groups to move forward with practical reform that all stakeholders can buy into. Such reform should include stabilizing rates as well as addressing the pre-funding mandate that is responsible for the red ink that's been reported in previous quarter
___________________________________________________________________________
Pay increases under 2011-2016 National Agreement

Date
Type of increase*
Amount
Jan. 2014
Cost-of-living adjustment
to be determined
July 2014
Cost-of-living adjustment
to be determined
Nov. 15, 2014
General wage increase
1.5 percent
Jan. 2015
Cost-of-living adjustment
to be determined
July 2015
Cost-of-living adjustment
to be determined
Nov. 14, 2015
General wage increase
1 percent
Jan. 2016
Cost-of-living adjustment
to be determined

* Value of cost-of-living adjustments (COLAs) depends on changes in the level of the Consumer Price Index (CPI).
** This COLA, calculated in 2013, will be deferred and paid after release of the January 2014 CPI.
*** This COLA, calculated in 2013, will be deferred and paid after release of the July 2014 CPI.
Letter Carrier Pay Charts
2011-2016 National Agreement
_______________________________________________________________________________________
2012 NALC Guide to Route Inspections
(click on book or link to read)
The 2012 NALC Guide to Route Inspections (PDF, 5.5MB) was created to assist shop stewards and branch officers in identifying contractual violations that take place during management's unilateral six-day route counts and inspections/adjustments, and with filing successful grievances on those violations.The sections in this guide take you through the inspection in chronological order and provide an easy reference to various provisions and related national settlements that govern route inspections.There is also a section with detailed descriptions and advice on how to read the various forms, reports and screens used during the route count and inspection process. Once you learn how to read one of our examples, you will be able to understand every one of the same type of form, report, or screen you will ever see.
_______________________________________________________________________________________
HELP SAVE AMERICAN JOBS. HELP SAVE OUR ECONOMY, BUY AMERICAN!
CLICK LINK BELOW.
______________________________________________________________________________
DELIVERING FOR AMERICA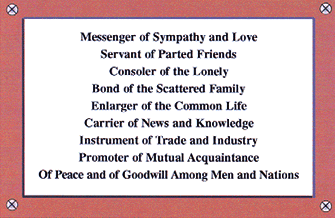 We deliver everywhere in the United States, that's 144,000,000 households & businesses every day, 6 days a week.
Regardless of distance, we deliver at the same low rate—among the lowest in the industrialized world.
We are career government employees who take pride in our work, in our nation and in the U.S. Postal Service.
We care about our customers and the communities we serve.
________________________________________________________________________________________

PROTECT YOUR JOB!
____________________________________________________________________

___________________________________________________________________________________
We welcome more information to share through YOUR articles* and pictures*. If you would like to add an article or picture(s) on this website, please contact Branch 193 President Ernie Arrañaga at: 408-288-8138.*All articles and pictures must be approved through the Branch President or Webmaster before appearing on website.